Take me to Zambia.
Every June/July, the Greenpop Zambia Festival of Action in Livingstone brings people together from around the globe to learn, connect, give back and get active.
Over three weeks we plant trees, grow food forests, build using eco-methods, set up recycling systems, brighten up schools with eco murals, attend sustainability workshops, celebrate with live music and more. It's an adventure for active citizens who want to change their world.
Weeks 1 and 2 are specifically for high school students. In Week 3 we welcome participants of all ages. We've hosted university students interested in environmental topics, professionals keen to take a holiday with a difference, study groups doing field work, families who love adventure and individuals from all walks of life who want to get active for the environment and have fun at the same time.
The schedule for each week will look something like this:
Sunday: Arrive at Greenpop Village (we provide a transfer from airport / museum) for orientation.
Monday: Project orientation stations & tour to a charcoal kiln in the Miombo Woodland. Music around the campfire in the evening.
Tuesday: Various eco-education activations at local schools / villages. Film screening under the stars in the evening.
Wednesday: You can choose between tree planting / upcycling / natural building / permaculture / mural painting / bee-keeping etc. In the evening, choose between a soccer tournament with local team / crafting / chilling / inspirational speaker evening.
Thursday: Workshop day at camp (options of various sustainability topics). Visit Victoria Falls in the afternoon. Quiz night in the evening.
Friday: Choose between tree planting / upcycling / natural building / permaculture / mural painting / bee-keeping etc. Party under the stars in the evening.
Saturday: Free day – go explore!
Sunday: Departure
ABOUT LIVINGSTONE
Known as the adrenaline capital of the world, Livingstone has lots of fun to offer! You will have at least 1 full day off so you could try some of these activities:
White water rafting on the Zambezi River
Victoria Falls bungee jumping (111m)
Gorge swinging
Shopping at local markets
Bicycle tour of Livingstone
Game drives
River safari cruise
Livingstone Island
Adventure Walks
GETTING TO LIVINGSTONE
The quickest way to get to Livingstone is to fly into the Livingstone International Airport (LVI). You can also take an Intercape bus or look into an overland tour. We offer a transfer to our camp from the Livingstone Airport or museum on the first day of the programme and on the last day too.
See more information on the "How to get there" tab above.
GETTING AROUND LIVINGSTONE
We will be based at a camp 10km outside of Livingstone. We travel to our daily activations in our overland trucks and busses driven by licensed professional drivers. On free days, if our shuttle times don't suit you, we can help you organise a taxi service.
ACCOMMODATION
The Greenpop Village will be set up at a lodge just outside Livingstone. There you will be sleeping in a beautiful tented camp area, with two people per tent and have access to our indoor dining area, ablution blocks, and other lodge amenities. You need to bring a pillow, a sleeping bag and warm blankets (although it is hot in the day, the nights get cold!). It's rustic but really comfortable and a lot more homely than what you would expect from a campsite – we pride ourselves on creating beautiful spaces. You can also upgrade to a bedroom if you prefer not to camp.
MEALS
We strive to live as sustainably as possible by buying from local farmers, eating seasonal food, and using alternative cooking methods like wonderbags and solar cookers. Because the meat industry has a devastating effect on the environment, we believe in reducing meat consumption. We serve meat twice a week and there is always a vegetarian option. We serve three well-balanced meals per day with snacks in between, so you'll get all the vitamins and protein you need!
SUSTAINABILITY
Living sustainably also means recycling, making our own compost and beautifying our village with upcycled art. Any waste we have, we take to local entrepreneurs: for example, plastic turns into eco-bricks, tetrapak into wallets and glass into bricks. Just being in the Greenpop Village is a valuable learning experience. Everybody works as a team to maintain and keep it looking awesome.
DRIVE / OVERLAND
Gather a few friends and go on a road trip to Zambia. The distance from Cape Town is approximately 2,600 km and it will take you 3-4 days or longer if you stop for more sightseeing. Check the AA website to find out what kind of permits and papers you need to cross the border with your vehicle.
Or you can treat yourself to a fun overland trip to get there and/or to get back! Take a look at the website of Acacia (http://www.acacia-africa.com/).
Be sure to check what visas you need for transit countries when taking a car or overlander trip.
COMMERCIAL BUS
Below are some guidelines for bus routes and companies. Prices are based on a single journey as found in October 2016. Please check the websites of Intercape for up to date prices. Be sure to check what visas you need for transit countries when taking the bus.
Route 1: Cape Town – Windhoek (Nam) – Livingstone
Cape Town – Windhoek (Nam): ZAR 780 – saver option

Windhoek – Livingstone (Zam): ZAR 550 – saver option
Route 2:  Pretoria – Upington – Windhoek (Nam) – Livingstone:
Pretoria – Uppington: ZAR 680 – saver option

Uppington – Windhoek: ZAR 550 – saver option

Windhoek – Livingstone: ZAR 550 – saver option
Route 3: Cape Town – Johannesburg – Bulawayo (Zim) – Vic Falls (Zim)
Cape Town – Johannesburg: ZAR 610 – saver option

Johannesburg – Bulawayo (Zim): ZAR 510 – saver option

Bulawayo – Victoria Falls: ZAR 206 – saver option

You can then take a taxi across the border into Zambia (or walk if you're up for it – it's a 20-minute walk between the border posts and you get to see the awesome Victoria Falls).
FLIGHT
There are several airlines flying to Livingstone or Vic Falls. Some direct and some require a transfer in Johannesburg. You will need to arrive on 25 June, 2 July or 9 July 2017. Prices are based on prices found on the websites of the relevant airlines in October 2017.
Flying to Livingstone Airport
Flying to Victoria Falls Airport
When arriving in Vic Falls you can take a taxi across the border into Zambia (or walk if you're up for it – it's a 20-minute walk between the border posts and you get to see the awesome Victoria Falls). From the border to Livingstone centre is another 8 kilometres, so you also need a taxi for that.  You can also contact Wild Horizons for a transfer from Vic Falls airport to Livingstone.
Fastjet

From Johannesburg: direct flight on Thu and Sun arriving at 16:35 in Vic Falls – as from ZAR 2,831 for a return flight.

From Cape Town: they don't fly to Cape Town, but you can catch a low budget airline to Johannesburg and then a Fastjet flight to Vic Falls from there.
EXPERIENCE YOU CAN RELY ON
In Zambia, Greenpop has hosted over 800 people from 12 to 78 years old since 2012.
In South Africa, we've hosted 15 festivals with up to 600 people at a time and held planting days in over 450 schools.
Greenpop has an experienced team of over 25 facilitators at the Festival of Action.
Our team is always available by phone during the programme.
Designated medic on site for first aid and emergency situations.
24-hour security guards at the lodge and campsite.
There is a safe storage locker for all valuables.
Zambia is a friendly country with a stable political situation.
Livingstone is a bustling tourist town 10km from our camp.
The town is equipped with doctors, pharmacies, hospitals, police and shops with everything you might need.
Everyone is required to have full travel and medical insurance for the duration of their stay.
Week 1: 25 June – 2 July 2017 (High Schools – Ages 13 to 19)
Week 2: 2 – 9 July 2017 (High Schools – Ages 13 to 19)
Week 3: 9 – 16 July 2017 (All Ages)
PROGRAMME FEES
African Residents:
Join us for one week: ZAR 5 390 (or ZMW 3 900 for Zambian residents)
Join us for two weeks: ZAR 9 950 (or ZMW 7 250 for Zambian residents)
Join us for three weeks: ZAR 13 950 (or ZMW 9 980 for Zambian residents)
Visitors to Africa:
Join us for one week: USD 655
Join us for two weeks: USD 1 220
Join us for three weeks: USD 1 695
Included in Programme Fees
Three meals a day and snacks in between
Coffee and tea
Tented accommodation at our lodge
Transfer on arrival and departure day to/from Livingstone International Airport or Livingstone museum
Workshops & Activations hosted by field experts
NOT Included in Programme Fees
Additional drinks and snacks
Transport from your hometown to Livingstone and back
Travel and medical insurance
Costs for visa and vaccinations
Fees for additional excursions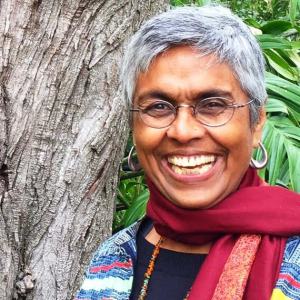 Nirmala Nair – Sustainable Development Practitioner
I have been working in the area of integrated sustainability practices with a specialised focus on climate change, resiliency and local eco-system regeneration for the past 15 years. As a sociologist, and sustainable development specialist my expertise has been developing design strategies for locally adaptive development programs fostering micro-climate that can offer local livelihood, food sovereignty, forestry that can be scaled up in modular forms in any context. I am a Donella Meadows Fellow, part of the 2007 cohort. The idea of School of Practical Sustainability was born during a Fellows retreat.  Currently, I consult under the auspices of School of Practical Sustainability, which I set up in 2012. During my latest work in Bhutan, I have developed a model LOCAL – Local adaptive Climate Action and Learning". This model brings many disciplines such as ZERI/Biomimicry, systems approach, permaculture and bio-dynamics to boost and inoculate a micro climate that can speed up the process greening and soil and water regeneration while rolling out training programs simultaneously.
Meg Coates Palgrave – Dendrologist, Conservationist, Author
Meg Coates Palgrave (nee Stead) is an enthusiastic dendrologist. She was born in Bulawayo and educated in what is now Mutare. Meg's interest in trees really came to the fore when she and her husband Paul took the photographs for Trees of Southern Africa published in 1977 by Struik, for which Paul's brother Keith did the text. She says you can't take photographs of trees for a scientific book unless you know what the trees are. Meg has written and published numerous books, including A Guide to the Trees of the Mukuvisi Woodlands and Key to the Trees of Zimbabwe comprising keys for six different areas, she has spent years revising the book Trees of Southern Africa which was published in 2002 and Everyone's Guide to Trees of South Africa which she revised in 2000. Meg conducts Know Your Trees Courses throughout the sub-continent showing people how to identify indigenous trees in the field using her very user-friendly classification key. Meg has received numerous prestigious awards for her invaluable work including the Bob Rutherford Memorial Award in 1996 in recognition of her substantial contribution to conservation as well as the Marloth Medal by the Botanical Society of South Africa in 2014.
Cliff Maunze – Beekeeping Expert
Cliff Maunze is a Zimbabwe-based, beekeeping expert from Environment Africa. Cliff is passionate about protecting bees and upskilling communities in how to maintain healthy hives. Bees are central to food security since they pollinate 80-90% of all food producing plants in the world, are vital for biodiversity and give us that delicious sweet treat, honey. Cliff is an enthusiastic trainer of farmers in Southern Africa and if he keeps up his rate of training (he's trained over 1000 farmers so far) soon whole swathes of the continent will be producing high quality honey, preserving woodlands and earning a vital and significant income that will help make them more resilient to future environmental change.
Artwell Chivinge – Asset-Based Community Development Practitioner
Born Zimbabwean, Artwell has worked with various Non-Governmental Organisations and owns his own NGO called Buriro. Artwell joined Greenpop in 2015 and since then he collaborated with Meg Coates Palgrave to facilitate various communities in Asset-Based Community Development (ABCD). Artwell is passionate about his work, especially trees. Apart from that Artwell is a farmer and teaches farmers how to grow and take care of their crops to improve their yields. Besides farming Artwell works with youths, mainly about Sexual Reproductive Health and other problems they may face, as Artwell is a professional counsellor. Artwell has gone on to become a lecturer for UNISA in their two new 'House Hold Food Security' courses. He promotes home food security through talks and tours at his own urban dwelling. Artwell also works for the Eastern Cape NGO Coalition and spent time teaching in Tanzania about home food security. He wants his pupils to know that instead of focusing on the macro picture they can contribute to their own home food security in their own microenvironments.
Matthew Koehorst – Professional Environmentalist
I'm passionate about reconnecting people to each other and the planet we live on. I've worked on a variety of projects that aim to inspire, educate and experiment with alternative ways of engaging with food, energy, water and life.  As a trained anthropologist and environmental scientist, I'm fascinated by the nexus of people and planet and I'm committed to reawakening the connection between the two. I've worked with Greenpop for the past 4 years in a full and part time capacity and love the energy, enthusiasm and adaptability of the organisation. My focus for the Greenpop Zambia Festival of Action is to create conditions conducive to collaboration and effective learning. I oversee the overall program and make sure that the work we do is impactful, educational and rewarding. I am the founder of a project called Six Kingdoms, which aims to explore and implement solutions for better relations between all forms of life through education work and project development and implementation. Essentially, Six Kingdoms is a human ecology project that draws principles from a variety of disciplines to create solutions to a wide variety of human and environmental challenges. Systems thinking, permaculture, biomimicry, human ecology and more are my theoretical inspirations. Skills? I'm an ok juggler and have been known to prance about in a onesie from time to time.
Heath Nash – Artist, Designer, Maker
Heath Nash is interested in how things are made. Heath studied fine art in Cape Town, majoring in sculpture. During his studies, Heath became something close to a designer, he developed a certain way of seeing and making that he still uses today. He used a process – the process of design, of play – to make objects that intrigued people. In the past 10 years, he has been looking at ways of engaging with his heritage as an African thinker, craftsman, artist and designer. He loves making things, and has found that he is good at working with other people that make things too. Now Heath is interested in using all his accumulated skill and experience to work with rural and urban producers in Africa and other communities, globally, to challenge 'the machine' and the standard systems of production that are so revered in the 'West'. Maybe as a part of this new climate (economic, climatic) that we all find ourselves in, there are answers to big questions in places that are not currently central. Maybe making something from rubbish is a start, but maybe making something that makes people stronger in themselves is even more important. Heath Nash cares.
Keen? Check out our gallery: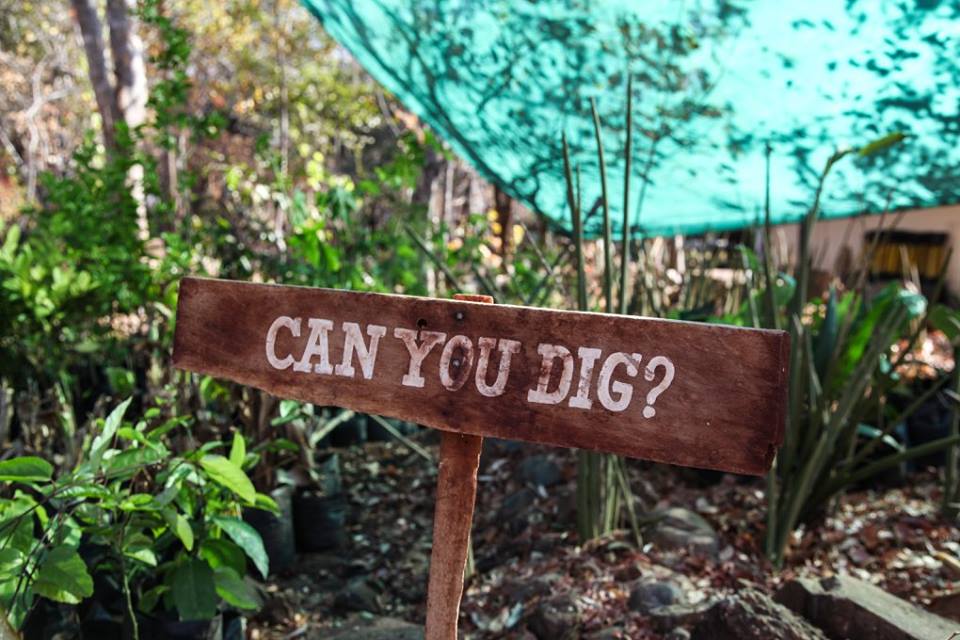 Want to get invites for Greenpop events?
Help us plant trees, grow gardens and educate for action across Southern Africa.