Reforest Fest Family Weekend
16 – 18 March 2018
Each March, we bring children and adults back to nature to (re)connect, plant trees, learn and dance under the stars…
Arrive Friday evening, pitch your tent and relax into a chilled night of gentle tunes under the ancient indigenous forest canopy. Enjoy delicious food and meet new friends around the campfire. Awake early on Saturday for an action-packed day of tree-planting and getting your hands dirty; you will help to restore an ecosystem that is one of the rarest and most endangered in the Western Cape. After planting thousands of trees in your teams, return to camp for a good shower, a talent show and forest party for the whole family to celebrate your achievement. Sunday is a day to relax your body and stimulate your mind with fun, educational activities and workshops including guided forest walks, yoga, informative talks, arts and crafts and puppet shows.
The Platbos Forest Reserve is located only 2.5 hours from Cape Town and meals, tents and ablution facilities are all available on site. So, why not unplug join us for a weekend of quality outdoor time with the whole family!
Ticket Prices:
Adult Ticket – Phase 1 (available until 31 August): R350
Adult Ticket – Phase 2 (available until 30 November): R425
Adult Ticket – Phase 3 (available until sold out): R525
Child Ticket (4-12 years old): R220
Toddler Ticket (under 4 years old): Free
Camping: Bring your own tent and camp in our general campsite. Please follow instructions of the welcoming team. No parking at tents and no dogs are allowed in the forest.
Kids Only Campsite: We noticed some of the (older) kids would love to have their own campsite, so we have created a cordoned off little campsite for 'Kids Only' with good lighting for kids older than 10 years.
Camper Van Area:
Allowed in this area: camper vans, caravans (including tow vehicle), motor homes, trailer tents (including tow vehicle), roof top tents (including vehicle – must be permanent or semi permanent fixtures to the vehicle).
NOTE: The above MUST be able to comfortably fit into the 7 x 5m area allocated. Greenpop reserves the right to exclude any of the above if it does not meet the required and generally accepted standards of what defines each of the above mentioned.
NOT ALLOWED IN THE CAMPERVAN AREA:

Cars (including with mattresses)
Bakkies (including with mattresses)
Combis (including with mattresses and/or tents placed on the roof)
Trucks (including with mattresses and/or tents placed on the roof or flatbed.)
Other Accommodation: If you don't want to camp (although we highly recommend camping – the ancient forest is so beautiful), we recommend the following places:
NB. When booking, remember to tell them that you are attending the Greenpop Reforest Fest and that they should give you a price excluding breakfast as we have food stalls selling amazing breakfasts up at the forest.
Meals: This year MEALS ARE NOT INCLUDED in your festival ticket and self-catering facilities are NOT available. As the festival goer you will have the following options for meals:
Buy meals at the festival:
Meal prices are between R25-R40 Breakfast, R40-60 Lunch, R50-R80 Dinner
There will be a variety of food trucks selling tasty vegetarian (and vegan friendly) breakfast, lunch and dinner options at our usual breakfast, lunch and dinner times.
There will be plenty of kid-friendly food available.
Bring your own food:
We cannot allow individual open flames in the forest for fire safety reasons (NB!). Small gas stoves are permissible but even these flames will need to be small and contained so please be careful. We'd like to encourage participants to rather buy from the food vendors or, if you'd like to bring your own food, bring mostly raw or pre-prepared food in a cooler box and equipment to serve it. We will also provide boiling water at all times.
Please note that there will be NO self catering facilities at this festival and the nearest shop is quite a drive away. We have made sure that the food available is of the tastiest and best quality and served with a smile.
Important:
Payment method: Cash is king or Snapscan (no ATM or card facilities on site)
Please wash your cutlery and plates at the washing stations that will be set up.
Bring your own cutlery and crockery (knife, fork, spoon, bowl, plate, cup, dishcloth). These will not be provided by any of the stalls (NB).
We provide some snacks as well during the planting day, but do bring extra snacks to share around the campfire or on the planting field. Please avoid over-packaged snacks – bring big bags and share 🙂
Drinks:
Drinking water: there will be water for washing and there is drinking water that is sourced from the dam above the forest, but if you have a sensitive tummy then please bring your own drinking water (2L per day per person should be fine). We encourage you to fill bottles with tap water from home rather than buying bottled water.
Other drinks: there will be a bar selling alcoholic drinks and juices, so bring extra cash. You are also welcome to bring your own drinks.
Coffee & tea: you can enjoy delicious tea and coffee from our vendors, so make sure to have some cash on you.
Platbos forest is an easy 2.5-hour drive from Cape Town. If you are travelling in a car, please try to carpool if you can. Our partners Find a Lift have a great carpooling site where you can find travel buddies and rides if you need.
Directions:
Remember you might be arriving in the dark on Friday evening, so be sure to read these directions carefully and have them on hand.
From Cape Town, take the N2 highway towards Hermanus.
Take the Hermanus turn off and go directly into Hermanus town. Drive through Hermanus town towards Stanford on the R43.
On the R43 road from Stanford to Gansbaai, look out for the Grootbos turn off on your left-hand side, approximately 12km after passing Stanford town. (If you get to Gansbaai you have gone too far)
Turn left at the Grootbos turn off and travel for just over 6km along this tar, and then gravel, road (do not turn into the actual Grootbos Estate).
Just before the 6km mark, you will see a turn off over a cattle grid on your right-hand side, and a wooden sign, 'Platbos Forest'. This entrance to the forest is CLOSED for Festival goers. Please do not turn up this road as you cannot gain access to the Fest from here.
Continue along the road you are on, following the Greenpop sign boards and flags. Turn right onto the entrance road (marked with Greenpop sign boards) immediately after you have passed the Platbos entrance.
Follow the sign boards until you come to the Festival Entrance.
Keen? Check out our gallery: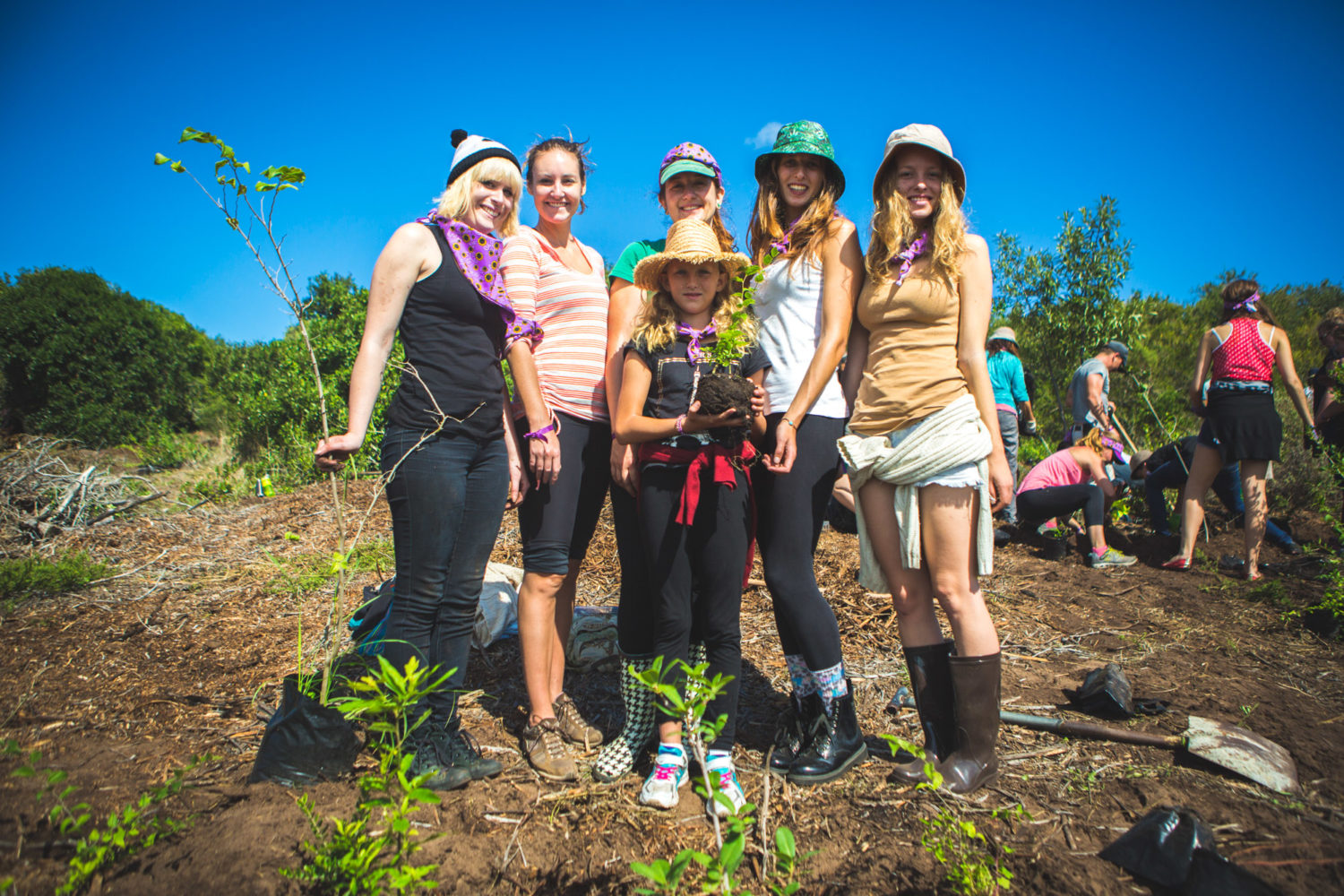 Want to get invites for Greenpop events?
Greenpop Foundation NPC is a registered non-profit organisation. Registration Number (NPO): 151-411 NPO.