As the timeless quote goes, "it's not about the destination but about the journey". If you follow Greenpop at all, then you would have heard some of the stories about our time at the
Greenpop Zambia Festival of Action
(a three-week environmental action summit that brings together people from across the globe to get active). This, however, is a story about how our team, which was made up of a collection of individuals with different backgrounds from different corners of the world, that traversed 2 500 km across Southern Africa to give five weeks of their time for a cause they believed in.
It all started in the leafy suburbs of Constantia. Each team member made their own way at dawn on a temperate Saturday evening to Dongola Guest House. It was to be our first time staying together as a team so that we could get a good night's rest and ensure everyone was there for our stinging 3am departure.
Dongola, in many ways, did us an injustice because what started out as utter, jaw-dropping comfort and beauty, we knew would soon be replaced by camping and sleeping with the stubborn ground only two inches from our faces for the next five weeks. We cooked, relaxed, checked our passports for the 100
th
time, and lounged by the pool for the sunset finale basking in the temporary luxury.
It was a rude, but exciting awakening with an early morning wake up call at 2am. As new friends, we somehow still managed soft jokes in the frigid air of chilly Cape Town. We got to packing and as we squeezed in the last of our bulging bags, it was difficult to tell what was steam from the coffee and what was cold breath.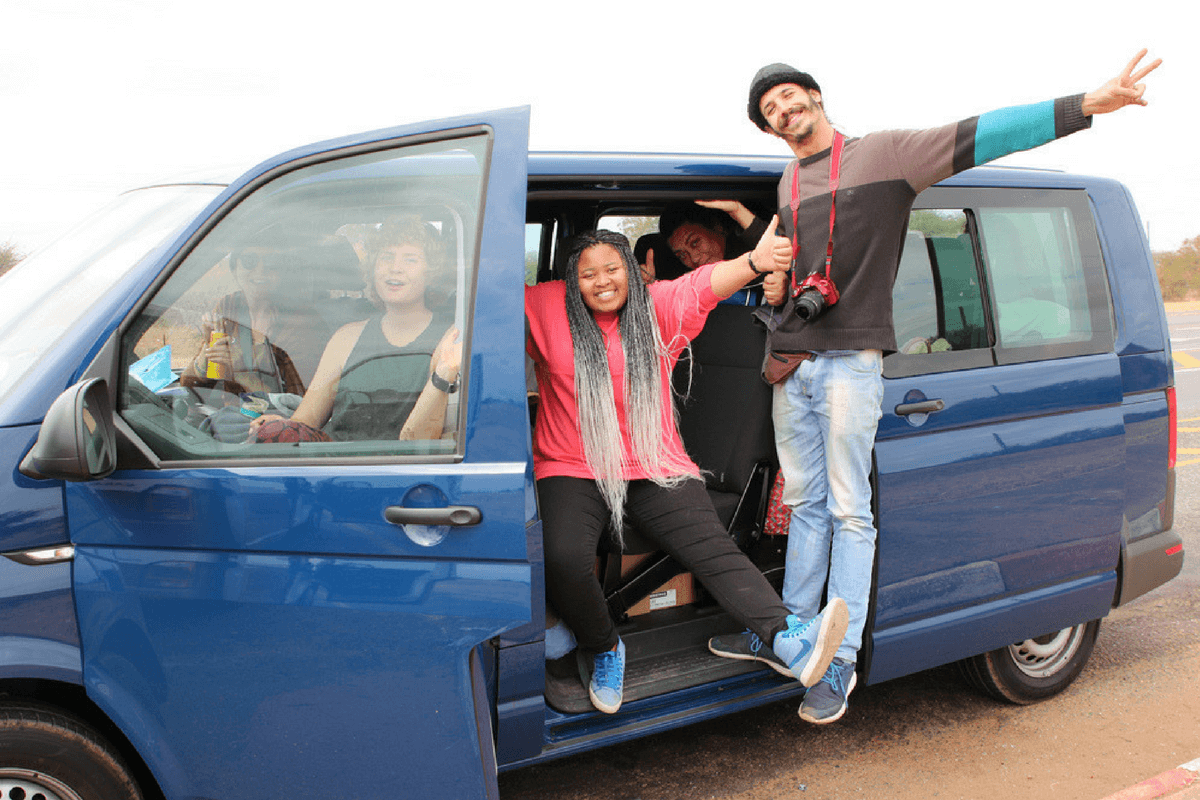 We managed to hold onto some luxury as we made our way onwards and upwards to the City of Gold, the longest leg of our journey.
Volkswagen
generously sponsored two vehicles for us to drive during the entire five-week trip. We were fortunate to drive a red and white Caravelle and a blue Crew Bus, which we affectionately termed "The Krill" and the "Blue Whale" respectively. While very slick but seemingly inconspicuous on the outside, inside we were treated to futuristic luxury in the seven-seater Caravelle (complete with swiveling chairs, mechanized table rest and so many secret compartments Mary Poppins would have been impressed) and glorious space in the 12-seater Crew Bus.
With a three-day journey ahead of us we were particularly grateful for the automatic vehicles that seemed to go with the same speed and vigor as any light automobile.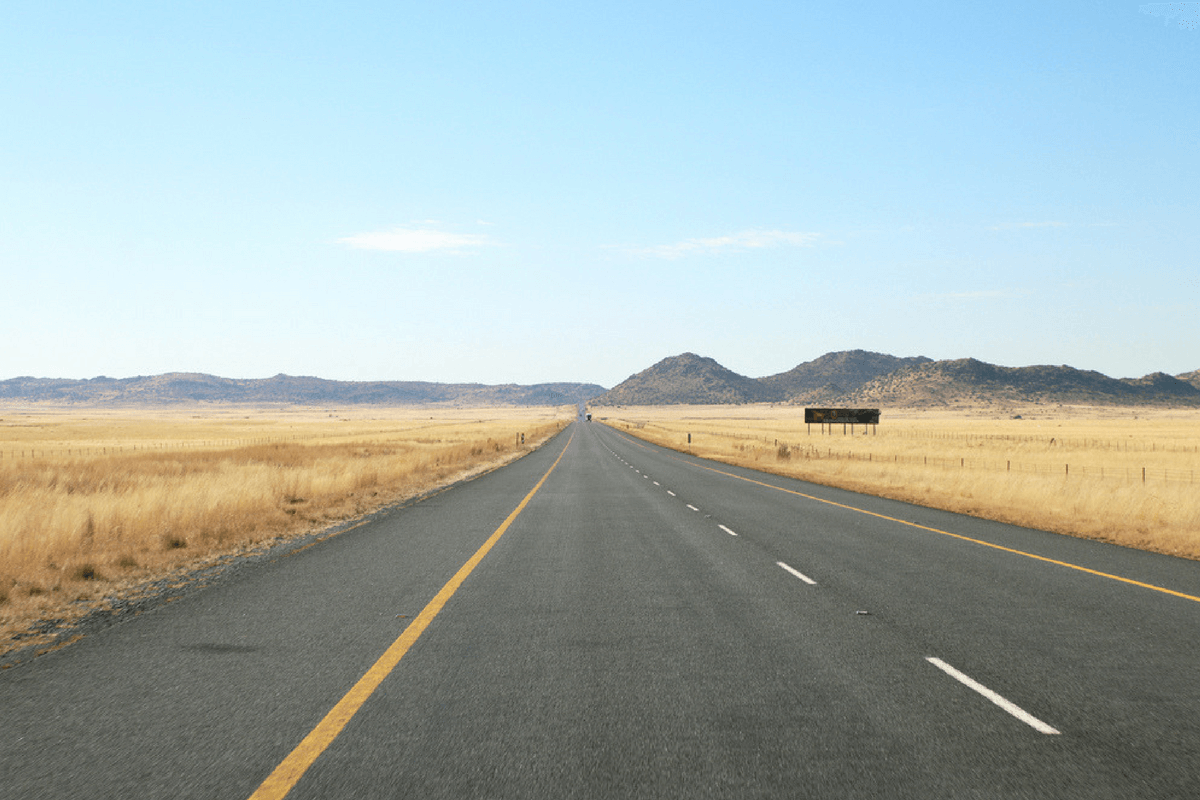 Iconic small dorps and beautiful barren landscapes whirled passed us as we made our way along the N1, you could feel that underbelly of excitement that we were on our way to a big adventure that had been months in the making! Our arrival in Johannesburg was greeted by nightfall and as we were welcomed to the labyrinth that is the
Ritz Backpackers
, we wasted no time in making a quick bite to eat before getting some much-needed rest. We all slept in a large circular dormitory room that had a height advantage where we closed our eyes to the warm blinking lights of the city.
We awoke still to the orange lights as the city still slept, it was another early start at 3am. By 4am we were on the road and very ready to enter Botswana! The border crossing was a breeze and their biggest demand was that we didn't take any raw meat across the border; lucky for us we had a car full of predominantly vegans and vegetarians.  
Iconic small dorps and beautiful barren landscapes whirled passed us as we made our way along the N1, you could feel that underbelly of excitement that we were on our way to a big adventure that had been months in the making!
We had Tati Siding (a small town just outside of Francistown) in our sights as we crossed the border, but our gaze was constantly diverted by the copious amounts of potholes, wandering donkeys, oblivious goats and herding cattle that made their way across the road and road signs that expected you to slow down by 40kms within 10 meters (which we all know is literally impossible!).
We reached Tati Siding in the light and were very pleased with our stay at EBAT Guest Lodge. Immaculate rooms were sprawled between the courtyard and thatch bar area. We each shared a room with one other team member as we relished in the last time we would be sleeping in a bed for a very long time!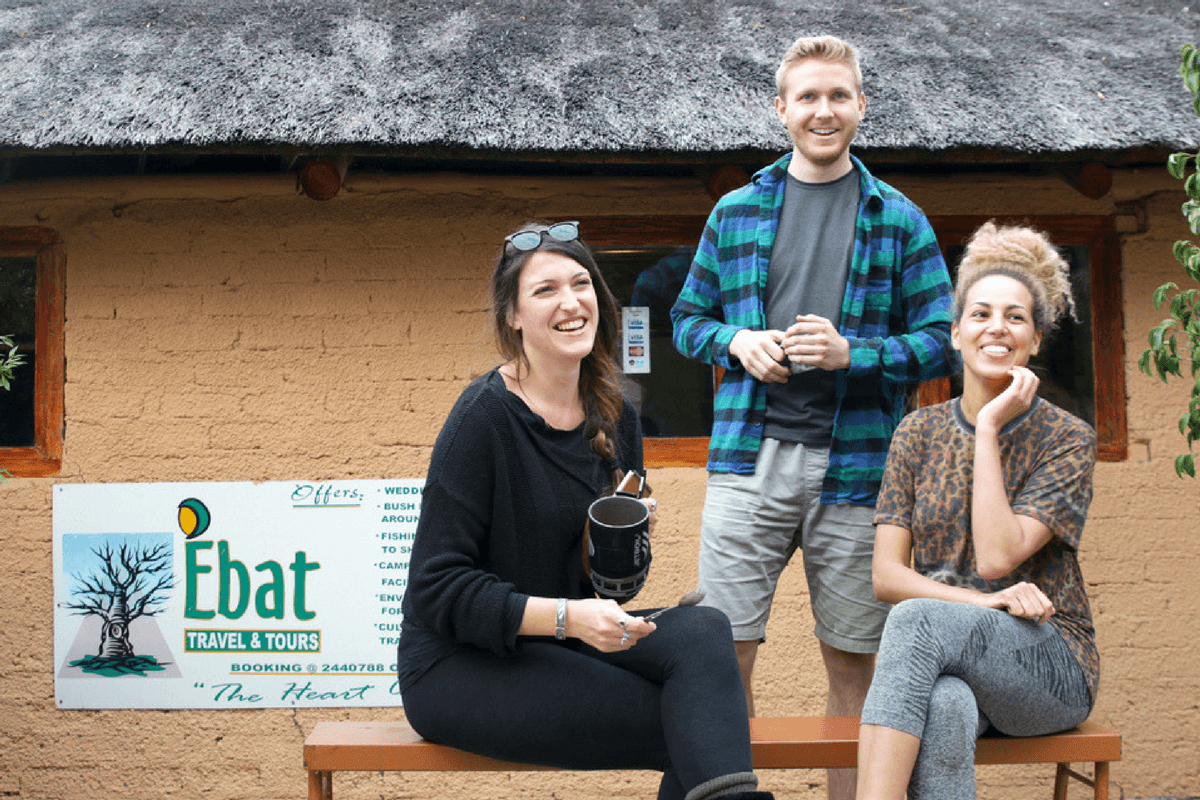 Day three was our biggest day, the shortest but the most stressful because this was where we were going to cross Kazungula border. This border is a bit different to other borders because it is the entry point to 4 countries – Botswana, Zambia, Zimbabwe and Namibia. However, before we got there, we had to drive our last leg through Botswana on the A33 highway, which lucky for us passes through a national park. The combination of the straight road with the sun at its highest and brightest meant we had to slowly make our way as mirages began to form and we had to still keep high alert for potholes and now wild animals.
And did we see animals! We were treated with sights of elephants, zebra, kudu, warthogs, and a group of giraffes. All of them were as close as next to the road for incredible viewing! It felt wild and brilliant to be seeing these magnificent animals casually on our way.
Almost six hours on the road we knew we were finally close to the border when we passed the line of trucks that seemed to go on forever (our hearts went out to all the drivers that can apparently sit at the border anywhere from 2 days to a few weeks if their papers aren't 100%) and felt grateful that we were a small, non-commercial vehicle that could simply go to the front of the never-ending queue.
After paying $30 for each vehicle to cross the Zambezi River on the pontoon ferry, we were swarmed by 'fixers' that relentlessly offered their help and each emphatically pointed us in multiple directions of where we needed to go. Crossing the border is easy with Botswana, but going into Zambia with a vehicle requires a lot of paperwork. In each vehicle, we had flip folders that were almost full with vehicle registration documents, letters of permission from VW, cross-border permits, and so on and so on. We were hustled from counter to counter as we paid for the relevant forms and displayed the necessary document as demanded.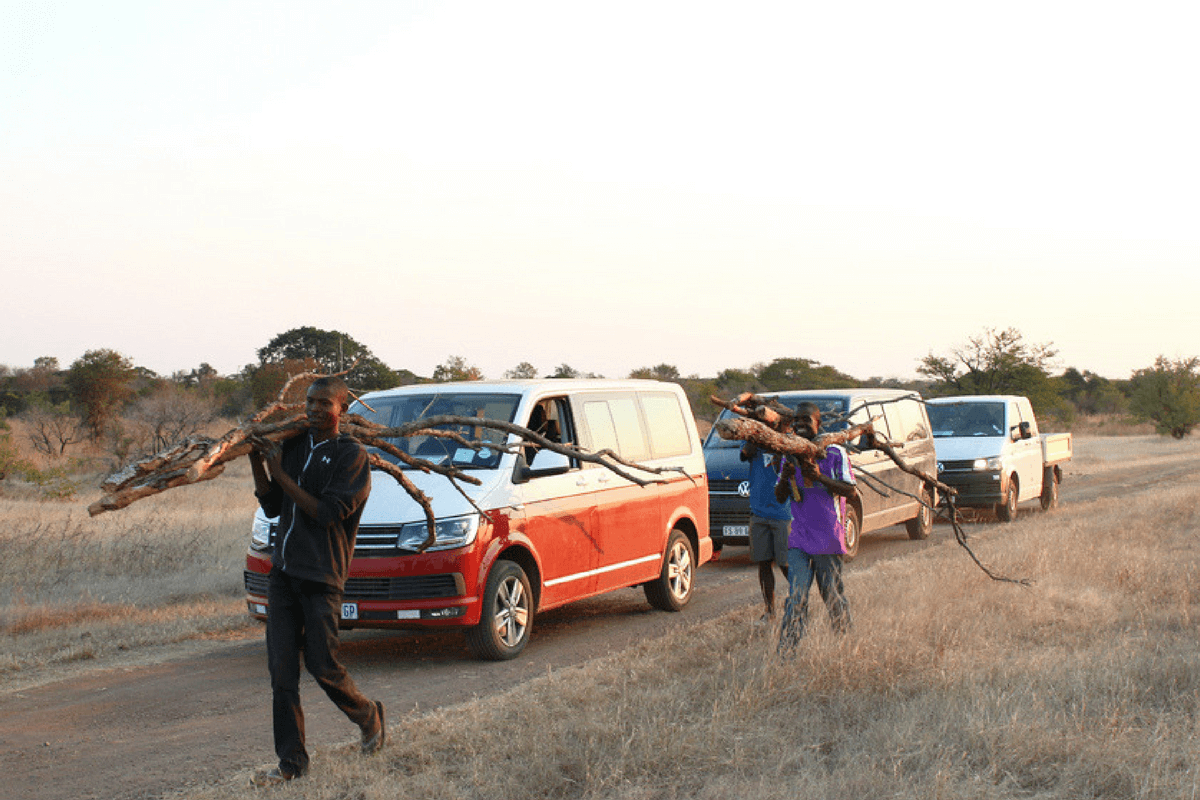 A grueling three hours of getting through the border, we were finally free! We were in Zambia and just had a short hour and a half drive to Livingstone. With eager eyes we gulped up the new scenery and space that would be our home for the next five weeks. Livingstone was at first impression a mix of the modern influence that is largely brought about by a large tourism market for the mighty Victoria falls and a mix of old traditional Zambia. Shockingly colourful clothing, stalls and fruits along the main road complemented basic and bland modern buildings. However, over the next month we would quickly learn that it would be the people that would steal our hearts and not just the amazing natural wonders and the quaint tourist town.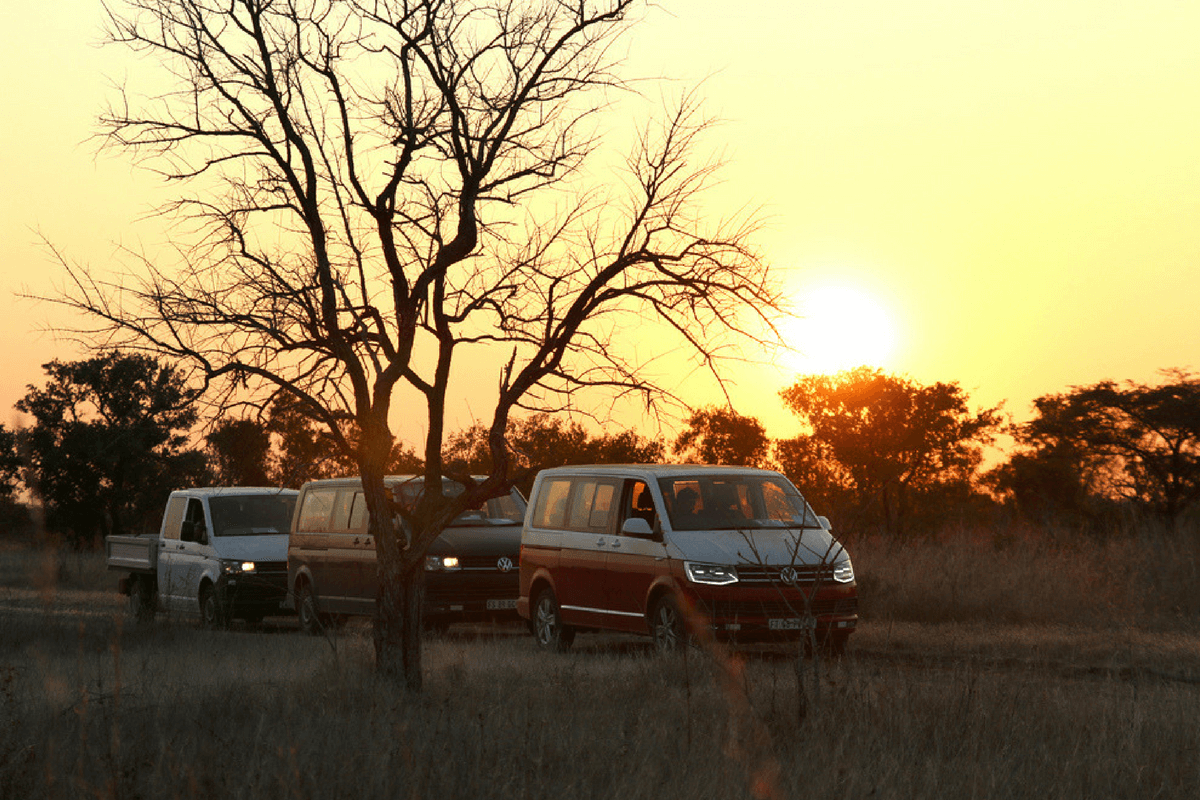 As we drove our final leg through Livingstone and then along the rollercoaster of a dirt road that took us through the smiling faces of Ngwenya village, we crossed the bridge into Livingstone Guest Farm. This is where the next and biggest part of our journey began…
If you are interested in joining our Zambian adventure, find out more here.
Planning on doing the same trip? Here are some Quick Tips:
Distance: 3 days and 2449km from Cape Town to Livingstone
Recommended 1st Stop: Johannesburg, South Africa
Recommended 2nd Stop: Francistown, Botswana

Distance: 680km
Recommended time of departure: 4 AM
Place to stay: EBAT Guest Lodge, Tati Siding

Border Crossing: Martin's Drift

Opening Hours: 06:00 – 22:00
Botswana does not permit fresh fruit, vegetables, and raw meat to cross the border
Tip: there are stops throughout Botswana where you have to get out of your car and walk on disinfectants. Have all your shoes in a bag so that you avoid getting stopped and searched.

Last Stop: Livingstone, Zambia

Distance: 566km
Recommended time of departure: 5AM
Place to stay: Livingstone Guest Farm with Greenpop!

Border Crossing: Kazungula Border

Opening Hours: 06:00 – 18:00
A very busy border between Zambia, Zimbabwe, Botswana and Namibia
Check out the Zambia Tourism site for the documents you will need to cross the border (have everything in a flip file ready to go!)
Tip: Have some Dollars with you and most of all, have your wits about you! Fixers will rush to your aid but most of them will want payment or for you to buy insurance through their company. You will have to move from desk to desk between buildings so always double check with the authorities first.
Greenpop Foundation NPC is a registered non-profit organisation. Registration Number (NPO): 151-411 NPO.