Become a Trees for Fees activist!
Trees for Fees is Greenpop's fundraising programme for the Eden Festival of Action.
Become a fundraising activist for Greenpop and ask your friends and family to help you raise funds for trees through your own online activist project page on GivenGain.
Not only will we use the funds you raise to plant trees across Southern Africa, but for every tree raised you will also get a discount on your programme fees to the Eden Festival of Action. And, if you raise enough trees you can even attend the programme for free!
Apply for the Eden Festival of Action here.
Click "Start Fundraising".
Set up your activist project. Be sure to tell everyone why you are raising funds for trees and why you would like to attend the Eden Festival of Action!
Set your fundraising target: 80 trees = 9600 ZAR/ 640 USD, 150 trees = 18000 ZAR/1200 USD
Set your deadline: 11 September 2022
Be sure to add photos and extra details to make your project POP!
Share & promote your fundraising activist project URL with everyone you know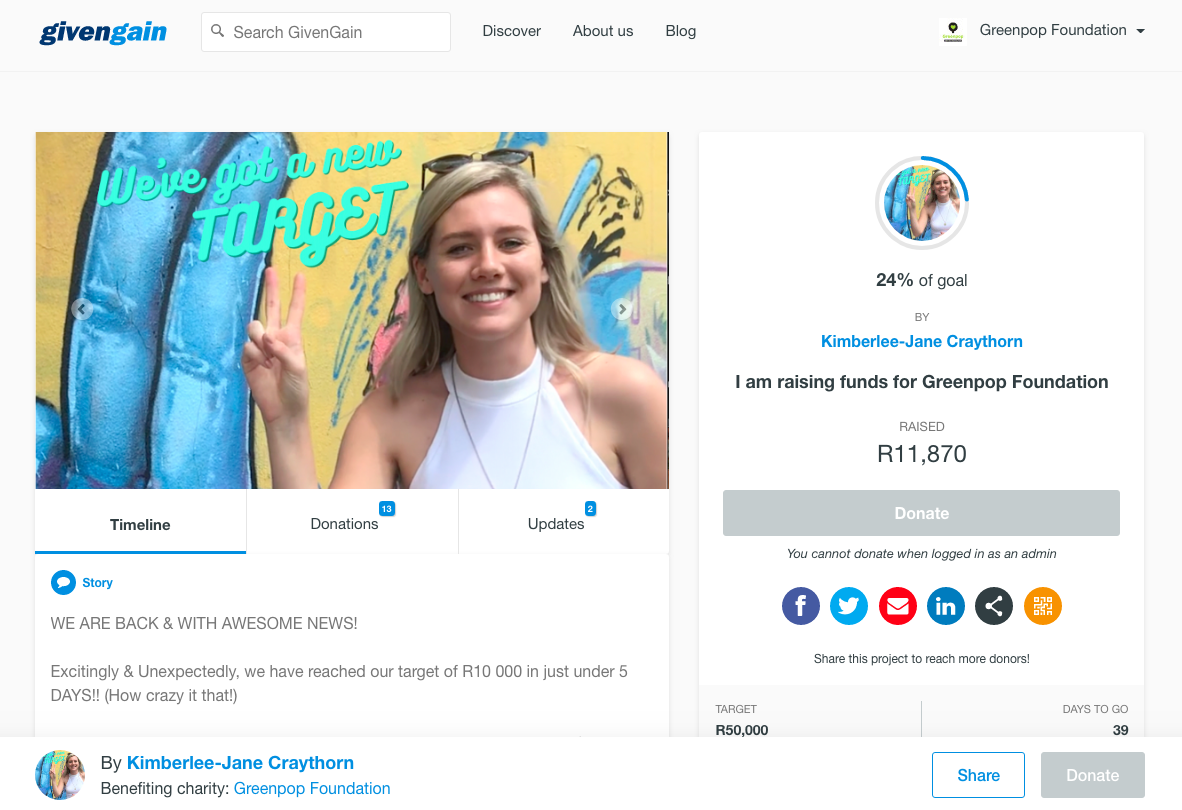 Frequently Asked Questions
Will every sponsor get a tree certificate?
After the project, we will send one certificate to you with the GPS coordinates of the location where we planted 'your trees'. You can share this certificate with your donors.
Can I also receive donations in cash or electronic bank transfer?
All donations must go through GivenGain. Therefore, your donors can support your project by donating funds via their credit card or electronic bank transfer. If you decide to sell lemonade or your granny gives you a crisp R100 note for your birthday, you can add this cash to your GivenGain profile by donating to your own campaign.
If I sponsor 80 trees for USD 10 / ZAR 120 the total amount of money is a lot more than the programme fee. Why is that?
If you participate in the Trees for Fees programme the total amount of money raised does not only cover your programme fee, but also the costs of planting the 80 trees. Thus, the total amount of money will be higher and you are supporting our planting programmes.
Will I get 80 real physical trees?
No, the funds you raise will be used to pay for the planting of 80 trees in one of our forest restoration projects. You will receive a tree certificate with the forest coordinates of where your trees have been planted.
I have 80 real physical trees in my garden. Can I donate them to Greenpop and get the full discount?
Unfortunately not. We try to run our project in the most sustainable way possible so we buy all of our trees which we plant from local nurseries to avoid transportation and support the local economy.
Will my fundraising cover the cost of getting to and from the Eden District?
Unfortunately it's not possible to raise funds for trees to cover the costs of transport from your hometown to the Eden District and back.
Greenpop Foundation NPC is a registered non-profit organisation. Registration Number (NPO): 151-411 NPO.