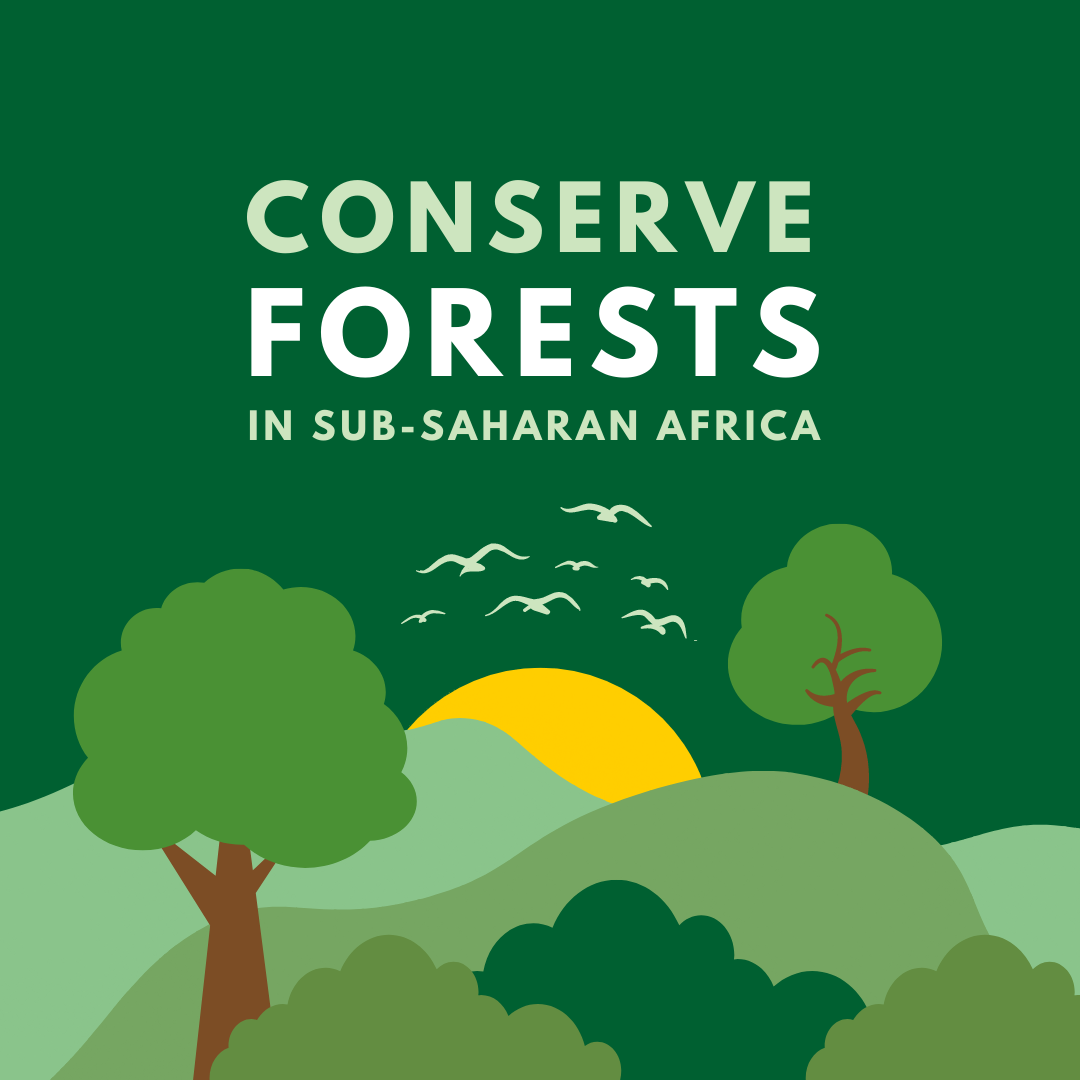 This Arbor Month, Greenpop is highlighting the importance of conserving our forests, the multitude of life-giving services that forests provide to people and what can be achieved when we work together, and stand strong like a forest.
Like all the living things in a forest ecosystem, we need to work together to create a strong, sustainable and resilient planet for the future health of us all. Restoring our forests aligns with the Build Back Better approach – now, more than ever, conserving our natural heritage is of vital importance.


Forests provide vital services to both people and the planet, bolstering livelihoods, providing clean air and water, conserving biodiversity and responding to climate change.
However, in Sub-Saharan Africa, forest cover is decreasing at an alarming rate.
From unregulated logging (often by foreign companies), to clearing for cash crops, to overuse of trees for fuel, human activity is putting increasing and devastating pressure on forest and woodland ecosystems.
Greenpop's Forests for Life programme aims to connect small-scale organisations across Sub-Saharan Africa with funding and support to plant trees, restore forest and woodland habitats, effectively manage critical catchment areas, and improve the lives of communities who rely on forest resources.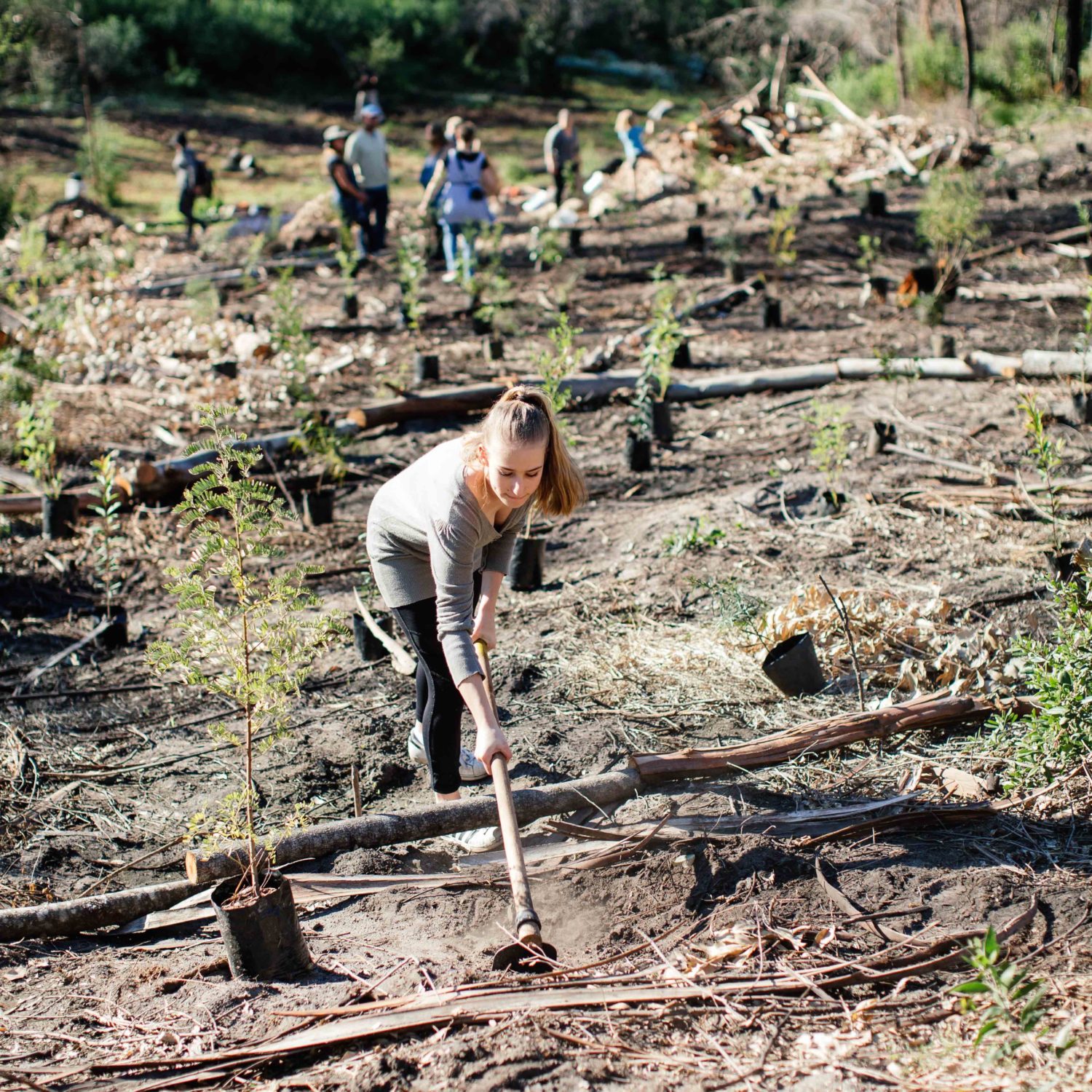 "The past decade—including the COVID-19 crisis—has revealed the systemic nature of risk and the cascading impact of disasters, crossing economic, social and environmental dimensions of sustainable development and affecting countries in all corners of the globe." 2030 Agenda, UN High-Level Political Forum on Sustainable Development.
"The natural environment is humanity's first line of defence against hazards of all kinds, and nature-based solutions (NBS) enable us to protect and work with nature to build resilience and reduce risks at all scales."
Conserving our planet has never been more important. On a national, local and individual level we can all contribute to Building Back Better and creating more resilience.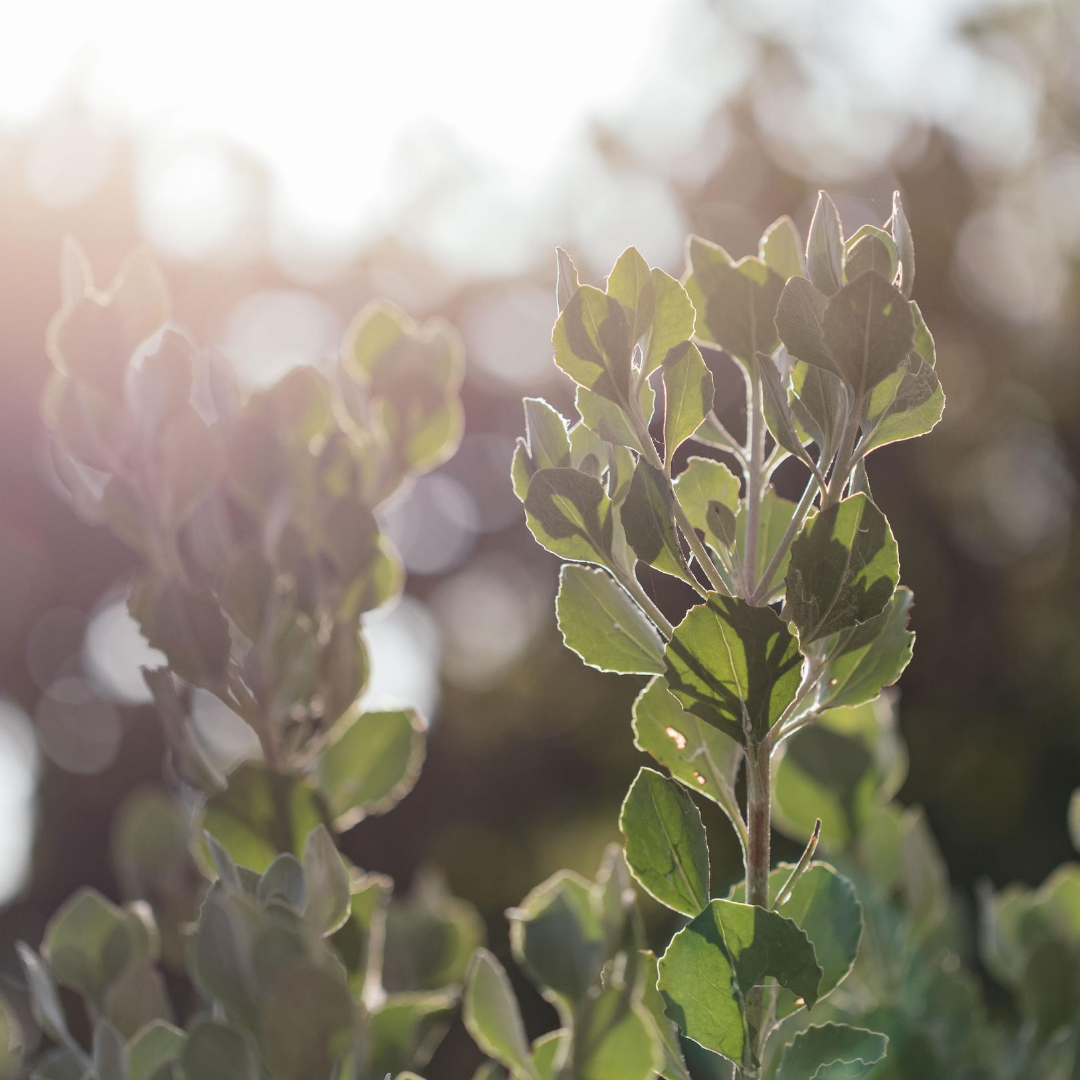 "Human development and wellbeing cannot be achieved without simultaneously safeguarding and investing in nature — otherwise development gains will be short-lived and unequally distributed" – 2030 Agenda, UN High-Level Political Forum on Sustainable Development.
Greenpop calls for support of their forest programmes that aim to:
Restore our forest ecosystems.

Contribute towards increased local biodiversity and ecosystem services.

Provide pro-community support that builds capacity and addresses local threats to reforestation success.

Build awareness about the local and international benefits of reforestation.

U

se reforestation as a tool for sustainable development.

At Greenpop we believe in getting active (not anxious), about the state of our planet.
"We have planted more than 127,000 trees over the last 10 years, but what makes me more excited than the trees are the thousands of hands that have helped us plant them." – Misha Teasdale, Greenpop founder & Tree-E-O.
Greenpop has seen first hand the impact that individuals can make when they work together, and stand strong like a forest. We believe in positivity to inspire action.
"Together, we can stand strong like a forest, and build a bright green future for all".

For every R120/$8 donation, we will plant a tree in one of our forest restoration projects across Sub-Saharan Africa.
These trees will fight climate change, restore ecosystems and improve lives. Greenpop is committed to a contextually relevant approach to tree planting, which includes a focus on skills development for the communities that care for the trees, and robust monitoring and evaluation.
In addition, we reduce threats to restored areas by providing locally relevant support services including alien clearing, wood lot development, and alternative livelihoods training to ensure the sustainable management of our forests.
Learn more about our forest restoration work here.

Donate via Direct Deposit.
Name: The Greenpop Foundation NPC
First National Bank
Cheque Account
Branch: Adderley Street
Branch Code: 201409
Account Number: 6245 6360 321
Swift Code: FIRNZAJJ
Reference: YourName – Project
Fund a tree to be planted in one of our forest restoration projects and receive a personalised digital TREE CERTIFICATE to send as a gift.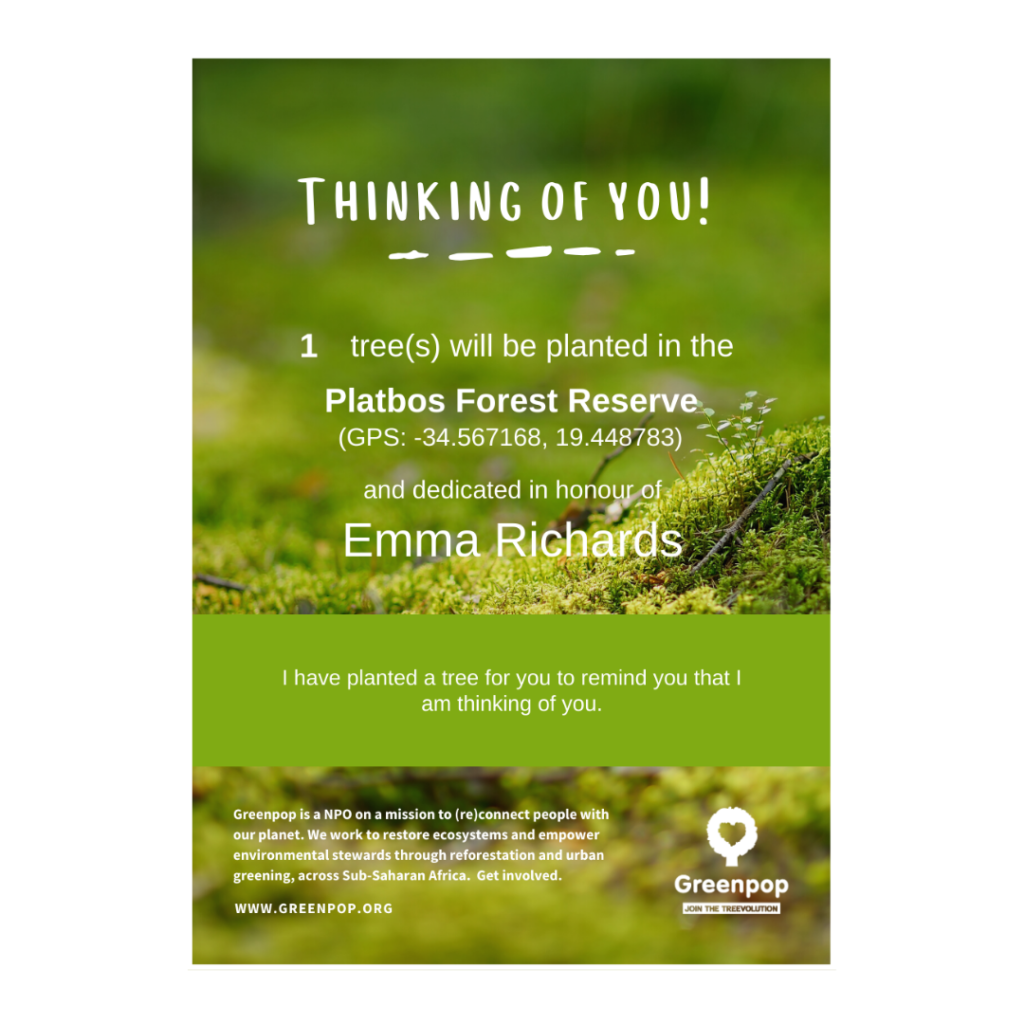 BUY A TREE CERTIFICATE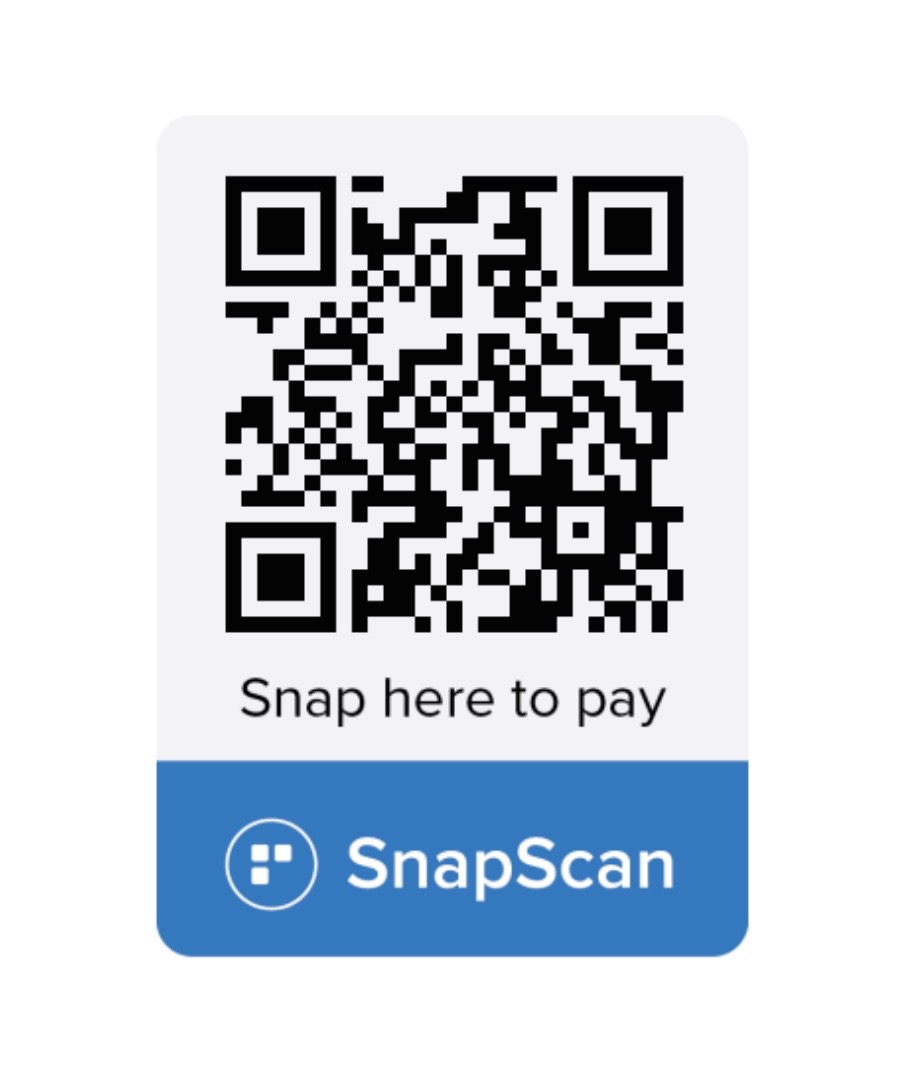 By giving monthly your gift allows us to plan with confidence so that we can continue the efforts to restore ecosystems across Sub-Saharan Africa.
SIGN UP
Get involved as a company!
Take a step in the right direction by ensuring that your company is making a positive impact on the environment. Support ecosystem restoration projects across Sub-Saharan Africa through creative partnerships and campaigns.
ACTIVATE YOUR COMPANY!
Greenpop Foundation NPC is a registered non-profit organisation. Registration Number (NPO): 151-411 NPO.